OUR SHOWS
It is an amazing privilege each year to plan and produce two holiday light shows to benefit our communities in Maine. Come see our over 60,000 dancing bulbs, and help us spread cheer one light at a time.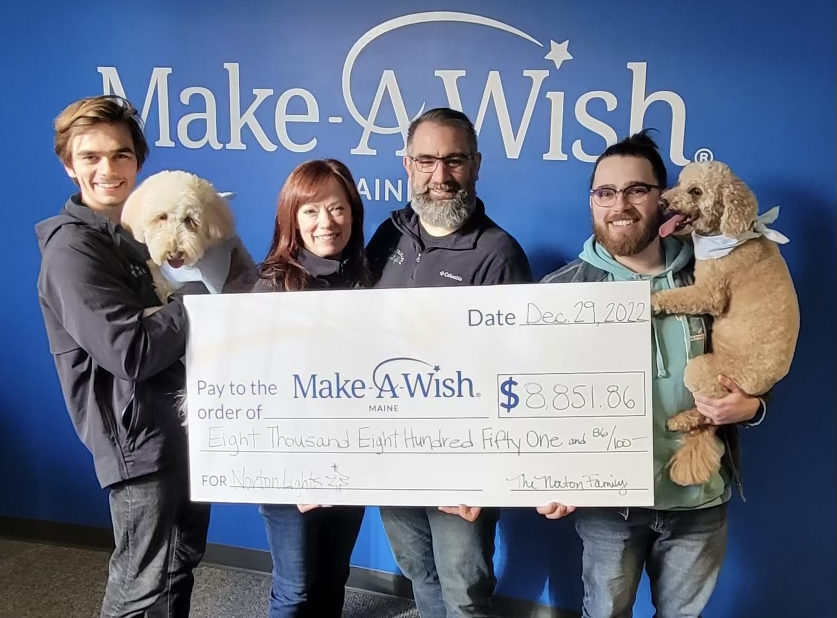 ABOUT NORTON LIGHTS
Norton Lights began in 2008 out of a friendly, family holiday light display competition. Since then, Stan Norton and his family — wife Melissa, sons Reed and Ryan, and even dogs Peri and Margo — pitch in, along with friends, family members and members of the Wells community, to produce a glittering annual display.

Norton Lights partnered with Make-A-Wish® Maine in 2009, when Ryan and Reed were nine and 12 years-old. Now adults, being outside on Christmas Eve directing traffic as a family is still a beloved holiday tradition. The goal is simple: spread cheer one light at a time.
Take a peek into the
heart
of our operation
Each season, our Christmas light show draws thousands of visitors to our home in Wells, Maine. But there is more at the heart of Norton Lights – Chasing Maine captured the essence of our show beautifully. Enjoy this behind-the-scenes look into who we are, what we do, and why we do it.
WATCH
VISIT US THIS SEASON
Please be considerate of our wonderful neighbors by not blocking driveways and allowing enough room for cars to get by. Please follow the signs for entering and exiting our neighborhood so that you don't have to turn around in driveways. We look forward to seeing you!
Showtimes
CHRISTMAS WISHES
November 25, 2023 – December 25, 2023
Sunday – Thursday 5:00pm – 9:00pm
Friday – Saturday 5:00pm – 10:00pm
OPERATION: SCARE N' SHARE
October 15-31, 2023
Sunday – Thursday 5:00pm – 9:00pm
Friday – Saturday 5:00pm – 10:00pm
Location