Together we can make wishes come true
Each holiday season, we collect voluntary donations for Make-A-Wish® Maine. Jingle all the way to see our festive light show, and help us make wishes come true.
MUSIC

When you arrive at our house, tune your car radio to 88.9 FM to hear the show music.
HOW TO DONATE
There is a donation box at the end of the driveway for those who would like to give. You can also donate online using the (Give Today) button below. All donations benefit Make-A-Wish® Maine, and help make a Maine child's wish come true.
GIVE TODAY
PLEASE BE KIND
Please be considerate of our wonderful neighbors by not blocking driveways and allowing enough room for cars to get by. Please follow the signs for entering and exiting our neighborhood — please do not turn around in driveways.
Your

Health and Safety

are important to us

At Norton Lights, we care deeply about your health, safety and the well-being of our communities. Please help keep our family, wonderful volunteers and your family healthy. If you choose to make a donation, you can do so online by using the (Give Today) button above. If you would like to make a cash donation, there is a donation box at the end of the driveway. Please maintain a safe distance and wear a mask when going to the donation box, approaching a volunteer, or interacting with other visitors.

Though we miss the cherished tradition of giving candy canes and chatting with you, we are glad to be able to give you a safe and happy holiday memory. As you pass by, we will be handing out extra (masked) smiles, cheerful waves and heartfelt well wishes for a happy and healthy holiday season!
It's lovely weather to grant wishes together with you
Our show is an 8 to 10-minute long show that runs continuously starting at 5:00pm. You can sit in the comfort of your warm car and watch the lights programmed to music heard through your car radio. On Friday and Saturday nights we have wonderful volunteers helping to direct traffic — please look for the brightly colored vests to help you to get the best view of the show. Please follow us on Facebook for schedule updates or changes throughout the holiday season.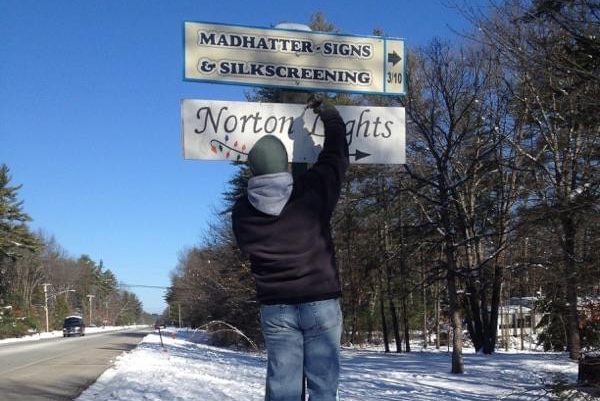 Thank you for your generosity
Thank you to everyone who visits and supports Norton Lights. Our light show, and the Make-A-Wish fundraiser, would not be possible if it were not for the love, support, dedication and understanding of so many people in our lives. We have met so many amazing individuals and families over the past many years, and from the bottom of our hearts, we thank you for your generous donations, no matter how big or small. Together, we can make wishes come true, and we are so grateful for the opportunity to do it with you.